How Long Can You Drive on a Spare Tire?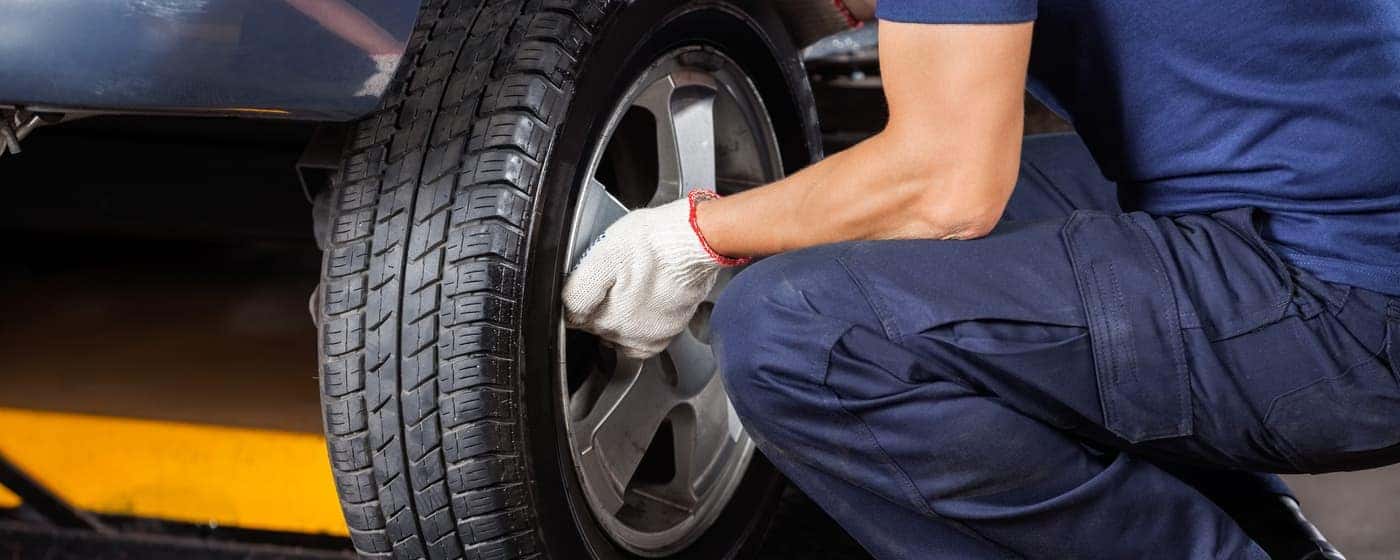 Are you wondering, "How long can you drive on a spare tire?" The tire experts at Toyota South are here to help! While it's best to replace your spare tire as soon as you can, the actual mileage amount will depend on the spare tire you are driving on. A full-size gives you additional time and mileage. But smaller space-saver tires should be replaced within 70 miles. Learn more about spare tire safety with the team at Toyota South.
---
Space-Saver Spare Tire
If you notice that your spare tire is smaller than your normal tires, it's a space-saver spare, or also known as a "donut" spare. These types of spares are found on most new Toyota vehicles and come with certain restrictions:
Don't drive more than 50 miles per hour
Don't drive for more than 70 miles
Less traction than with a full-size spare
Your space-saver will list any additional usage restrictions on the tire itself. Visit the nearest vehicle service center to get your old tire repaired or to purchase a new one.
Full-Size Spare
A full-size spare is not as common but is sometimes included with new Toyota trucks and SUVs. Full-size spares are used longer than space-savers, but you will want to make sure that the tire gets replaced as soon as possible. Since it's brand-new, it won't have the same amount of wear time as other tires. Toyota South can help you find an excellent tire that offers a better fit.
Run-Flat Tire?
Run-flat tires will maintain pressure even after the puncture, which means there are both advantages and disadvantages to them:
Remains inflated for roughly 50 miles following a puncture
Tougher than a full-size or space-saver spare tire
Costs more money than a standard tire
With run-flat tires, your tire pressure monitor shows when it's running low. Stop your vehicle and inspect your tires. A visible puncture on a run-flat tire means that you need to visit our vehicle service center near Berea to repair or replace it as soon as you can.
Get More Tire Care Advice from Toyota South
Now that you know the answer to the question, "How long can I drive on a spare," let us help you find the tires your Toyota needs. We offer an excellent selection of new tires designed to perfectly fit your vehicle, as well as a range of Toyota performance parts. Give us a call with any questions or to schedule an appointment. You can also read more about our most trusted body shops in near Richmond if you need any repairs to your vehicle and you can also learn how to jump-start your car if it ever fails to turn over and how to properly wash your car.
More from Toyota South
Just like there are a variety of restaurants in the Richmond area for every taste, there are 2020 Toyota Corolla configurations for everyone at Richmond car dealerships like Toyota South. For Lexington drivers shopping for a new Corolla, we have the information you need to decide which Toyota Corolla configuration and which Toyota Corolla MSRP…

When properly equipped, the 2020 Toyota Highlander towing capacity is a max 5,000 pounds. If you're searching for a versatile midsize SUV that can tackle those tough jobs in Lexington – and look great out-and-about in Frankfort, we think you'll agree that it fits the bill! In the guide below, we'll take a look…

The 2020 Toyota RAV4 has received lots of stellar reviews from consumers and industry experts alike who have had the chance to test out the new Toyota RAV4. Car and Driver raved about the rugged styling and the plethora of standard safety technology features, while Edmunds enjoyed the off-roading capabilities of the 2020 RAV4…