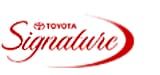 What is Signature?
Signature is about increasing customer satisfaction, operational effectiveness and efficiency, and customer loyalty through improvement of familiar dealership processes such as sales negotiation, service reception and write up and vehicle delivery.
Guiding Principles
No Defect:

I want you to

...
Deliver my vehicle in perfect condition; fix my vehicle right the first time; ensure my dealership transaction, in sales, service or parts has no errors or omissions that impact me negatively
Timeliness:

I expect you to...
Respect my time and don't keep me waiting. Be ready for me if I make an appointment. Have enough staff to take care of my needs quickly. Ensure that your processes don't ask more time than they need to. Keep me posted on what is happening and meet the commitments you make to me
Caring:

I need you to...
See me as a person, not a "sale". Treat me as if you understand where I am coming from and want to help me get what I'm looking for. Stop putting up road blocks to keep me from my goal.
Acknowledge my value to you. Help me understand what you need to know from me. Listen when I tell you what I need.